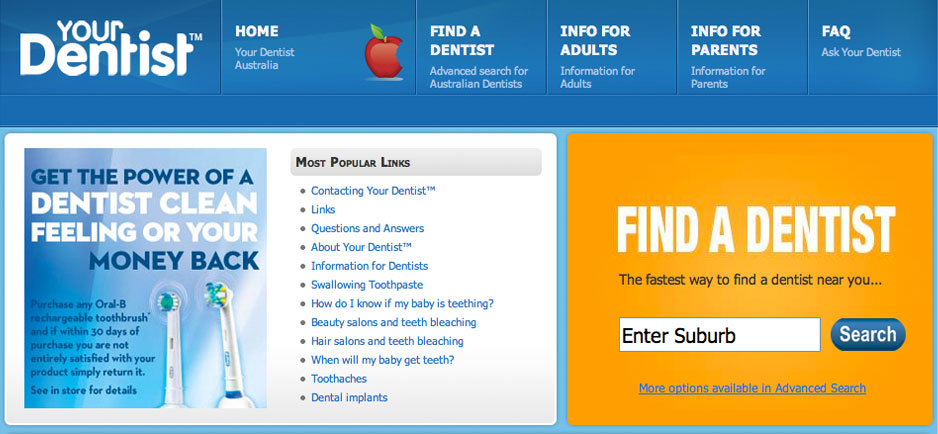 The Your Dentist™ find-a-dentist service located at www.dentist.com.au is utilised by the general public thousands of times a day to locate dental practitioners.

Statistics show that pages from the Your Dentist website appear 800,000 times a month in Google® searches and are subsequently clicked on 60,000 times a month. Additional traffic is generated from other search engines and marketing activities.

Ensuring you are listed on Your Dentist and that your details are correct will enable prospective patients to easily locate your practice and utilise your services. In fact, Your Dentist is often the first call practitioners make when setting up a new practice because when they Google the word "dentist", Your Dentist appears very prominently.

There is no charge for your basic details to be listed on Your Dentist. Paid options that allow you to include additional information and enjoy greater priority are also available.

Through the Dental Community, you can update the information about you and your practice(s) that is listed on Your Dentist at any time using your unique ID and password.

Plus, you can also see real time statistics that show you how many times your information is being viewed and clicked on.

In addition to this, we also offer paid options to increase your prominence in searches and increase the amount of information we list about you and your practice.

The sample screen on the right shows the Paid "Detailed Listings" appearing prominently at the top of the Search Results page. A graphic that can be changed at any time through the Dental Community portal helps to increase prominence and deliver branding or promotional messages. A "Special Offer" can also be added to further interest patients in clicking on your practice to view further details.

Each time your practice appears in a search in this manner, we record this as part of the real time statistics we maintain for every listing. In addition, statistics are also kept on how often your practice details are viewed, which is necessary to obtain details such as your telephone number.

For the Level 2 "Paid" listing, we also display your website and track when this is clicked on from the practice details page. For Level 3 "Paid" listings, when you click on your practice name from the search results page, you are immediately transferred to your website rather than the practice details page. This option is only available if you have a website already.

All of these statistics are available within the Dental Community portal and are updated constantly and can be viewed 24 hours a day, 7 days a week.